Products
---
We offer a comprehensive range of UKAS 17025 approved mechanical, metallurgical, corrosion and analytical testing services to meet the needs of our customers in a highly competitive industry. We pride ourselves on delivering the highest quality with speed, integrity, accuracy and exceptional customer service.
---
Our mechanical testing is carried out to the highest standard by experienced technicians. The laboratory is temperature controlled and all equipment is maintained and calibrated to national standards to ensure the accuracy of our test results.
The following is a summary of our mechanical testing capabilities.
Tensile tests - room temperature
2 Mayes machines controlled by Rubicon testing software
0.6-250kN
2 x Zwick Z250 SR with Lazer extensometers
1 x Zwick Proline Z100
Tensile tests - elevated temperature
1 Mayes machine controlled by Rubicon testing software
0.6-250kN
5 independently controlled furnaces
3 zone Eurotherm control and monitor on each furnace
3 type 'R' thermocouples recording temperature on each specimen
Up to 1000ºC (990ºC for UKAS)
Impact tests - Charpy
2 Avery-Denison machines; 1 BS EN; 1 ASTM
300J capacity
3 independently controlled baths
Eurotherm temperature display
Ambient temperature to -196ºC
'V' & 'U' notches
Impact tests - Izod
Denison machine
150J capacity
Stress rupture tests
10 machines
0.6-30kN
3 zone Eurotherm control and monitor on each furnace
3 type 'R' thermocouples recording temperature on each specimen
Up to 1000°C
Hardness tests - Brinell
Avery machine
10/3000 (UKAS) 10/1500, 10/1000, 10/750 & 10/500 (non-UKAS)
Measured using Foundrax Brintronic
Larger samples
Nexus 3200 Desktop Brinell Hardness Tester with video measuring system
Hardness tests - Rockwell
2 Mitutoyo Rockwell machine for small and mounted samples
Zwick Rockwell machine
HRC; HRB
Hardness tests - Vickers
Mitutoyo machine for small and mounted samples
Vickers Micro hardness HV0.05, HV0.5 & HV1.0 (all UKAS)
Armstrong machine for larger samples
HV1, HV2, HV3, HV5, HV10, HV20, HV30, HV50 (Hv10, HV30 for UKAS)
Bend tests
3 point bend test
Various former sizes
BS EN ISO 7438
Inspection of test pieces
Fully calibrated
Verniers and micrometers
Shadowgraph
Surface roughness
We boast one of the UK's leading laboratories carrying out metallurgical testing work for multiple industrial sectors including aerospace, automotive, oil and gas, biomedical, construction and power generation.
Employing degree qualified metallurgists and technicians, the department performs a comprehensive range of tests covering a wide range of materials, including titanium, aluminium, copper, carbon and alloys steels, stainless steels & high strength nickel alloys.
Our metallurgical testing services include grain size, cleanliness, grain structure and surface decarburisation checks, with certification to the relevant national or customer defined specification. Nickel alloys are regularly checked to the API Standard.
Our equipment includes three Leica optical microscopes (magnification to x1500) with image capturing software linked to our bespoke computer system, allowing us to create metallurgical reports with photographic records to satisfy the most stringent specifications.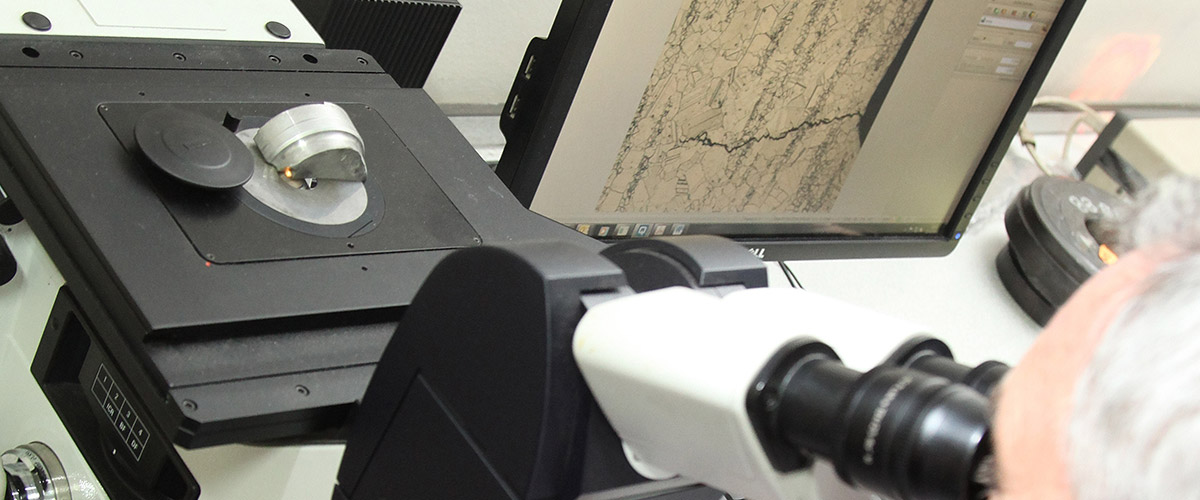 In addition we have an Olympus Stereoscope (magnification up to x64), and a full range of sectioning, grinding and polishing equipment for sample preparation. An extensive range of chemicals is used for etching a wide range of metals and alloys.
We also have a Mitutoyo micro-hardness tester, with accompanying computer and dedicated software utilising loads of 0.05kg to 1kg and magnifications from x100 to x1000.
Our failure investigations service employs all testing methods available for full material examination to provide essential evidence in the identification of the cause of failure.
The chemical analysis department was established to complement the successful mechanical and metallurgical departments.
We use two optical emission spectroscopes to analyse metallic elements in a wide range of alloys. With special masks and adaptors, we can analyse small samples down to 8 mm diameter.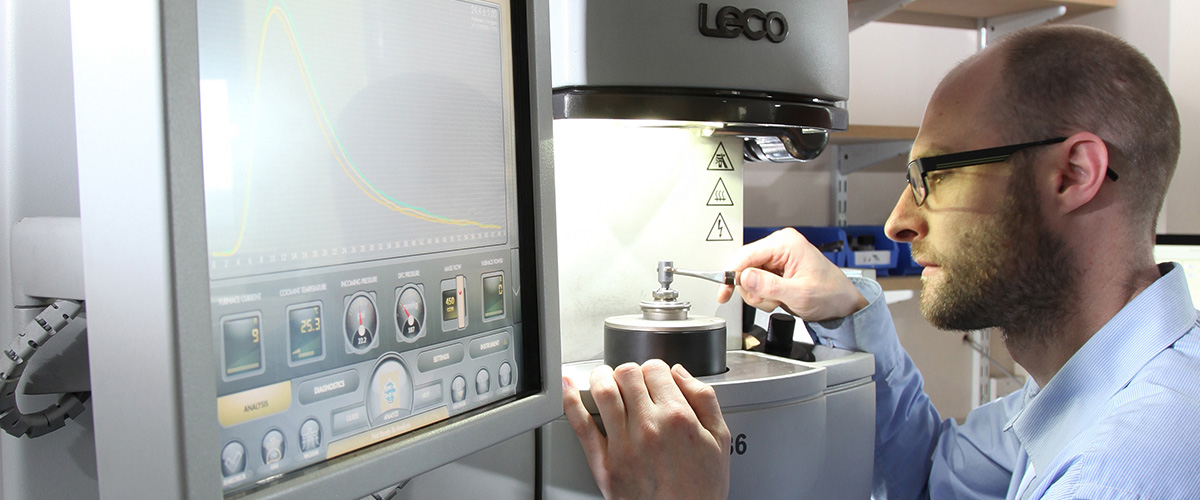 We also use Leco and Eltra analysers to carry out gas determinations for carbon, sulphur, oxygen and nitrogen.
We offer a same day service for analytical testing by arrangement.
Corrosion testing
Understanding how materials behave in operating environments is essential. Using temperature controlled baths, we can test many samples simultaneously. Temperature control can be automated and recorded electronically if required. Hotplates are used to test materials in boiling solutions.
We perform a range of standard corrosion tests, including:
G48 standard test for pitting and crevice corrosion resistance in stainless steels and related alloys using a ferric chloride solution at temperatures controlled up to 50°C. Tests performed to ASTM G48 methods A & B / ASTM A923 METHOD C.
Intergranular corrosion susceptibility testing on wrought nickel-rich chromium-bearing alloys using copper/copper sulphate-16% sulphuric acid solution. Tests performed to ASTM A262 practice E.
Huey tests for intergranular corrosion susceptibility in wrought nickel-rich chromium-bearing alloys using nitric acid. Tests performed to ASTM A262 practice C.
G28 test for intergranular corrosion susceptibility in wrought nickel-rich chromium-bearing alloys using boiling ferric sulphate-sulphuric acid solution. Tests performed to ASTM G28.
Other testing services
Machining
We are capable of cutting sections up to 400mm diameter. Variable cutting speeds allow us to machine a vast array of materials; we use carbide-tipped blades to enable us to cut high strength nickel-based alloys.
We prepare tensile test pieces in diameters ranging from 3.99mm to 20mm.
Our machine inventory comprises:
16 band saws
7 manual lathes
2 CNC machines
3 Semi-automatic RJW Charpy machines
4 manual miller machines
Automatic and manual notching machines
Heat treatment of test samples
We have four dedicated furnaces for carrying out proof and post weld heat treatments. Two are calibrated to API 6A and two to AMS2750, required for heat treating to tight tolerances. We are able to apply oil or water quench with agitation to meet relevant standards.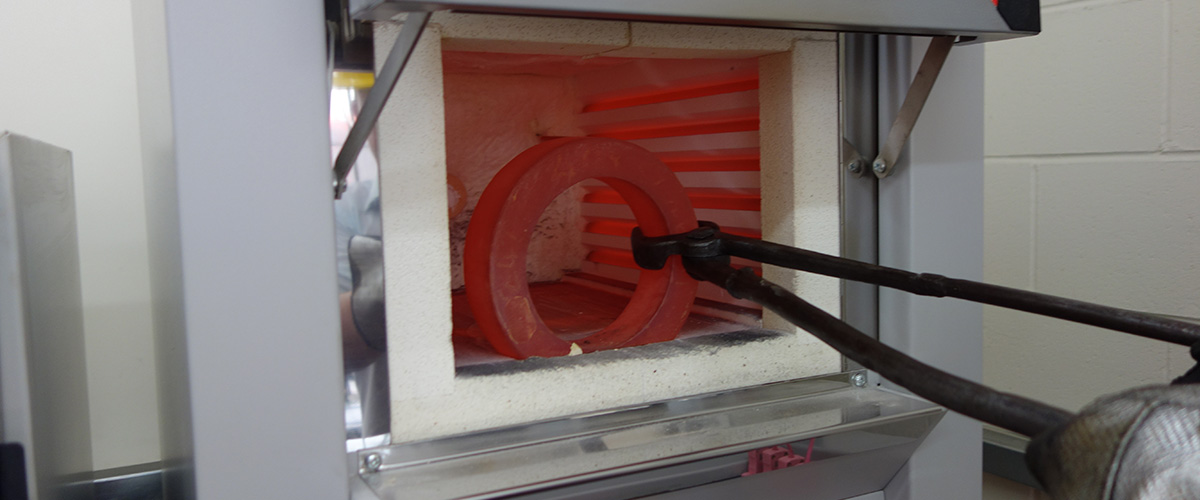 Details of heat treatment applied to test pieces are included on our test certificates; we are able to produce and e-mail or print furnace charts thanks to the individual temperature recorder.
Specialist machining
Ashmark is a specialist machining department within the Special Testing site with manual machinery, giving us the capability for turning, milling, grinding, broaching and sawing.
Our skilled engineers produce test specimens to standard and modified specifications from a wide range of materials. Specimens are used for research and development purposes and some are required for tooling set-ups by clients.
Ashmark specialise in extracting and machining components from limited material and defined areas.